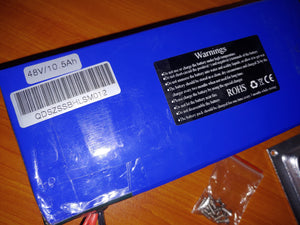 Is your stock battery not giving the range it used to? Over time, batteries degrade. The rate at which they do so is impacted by many factors, including riding style, terrain, charging habits and so on. If you want to restore performance and range, a new battery is just what you need!
1x Samsung 48v 10.5ah Battery 
BOTTOM PLATE/SCREWS NOT INCLUDED! If you want to upgrade from the 4.4ah battery for double the range, you will need to purchase the LH Upgrade Kit!